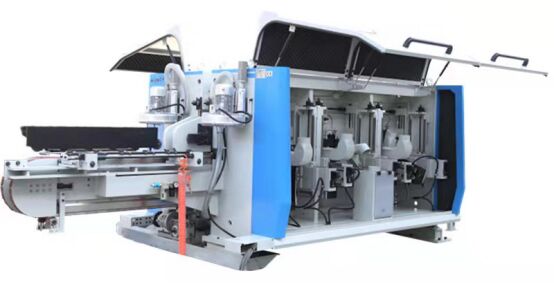 Product description:
Longitudinal double end tenoner adopts high-precision feeding chains, wide process range, so this machine has specialties with high speed, high out put and high precision.It mainly used in rectangular panel longitudinal edge processing. The cutter shaft have five stations(10 shafts), six stations(12 shafts) and eight stations(16 shafts) , the other requires can make to order.
Main machine technical parameters
Equipment name

Longitudinal double end tenoner

Technical parameter

DTE

DTEZ

DTEK

Working width(mm)

150-800

125-600

Working thickness(mm)

3-25

6-25

Qty of cutter shaft

5 or 6 or 8

Feeding speed(m/min)

100

Power of cutter shaft(KW)

5.5/8/11

Height of working table(mm)

1100
Description: DTEZ is double narrow chain double end tenoner. Side-free structure can be used in engineered floor processing.Then the minimum processing width can reach 90mm.